Une magnifique brochure bilingue de 52 pages couleurs sur l'histoire et les trésors de la Basilique Notre-Dame, sa couverture est laminée et son format est de 6.5"x9.5".

Faîte la visite complète de la Basilique au fil des 62 photo- graphies resplendissantes qui illustrent cette brochure.

ISBN 2-9804437-0-0

Son coût est de 12$cdn en incluant les taxes applicables. L'expédition est en sus, tel que représenter par le tableau ci-dessous.

Échantillon de quelques pages en format Acrobat® (1.7Mb).

La galerie des photographies de la Basilique Notre-Dame.

Utilisez PayPal® pour commander votre brochure.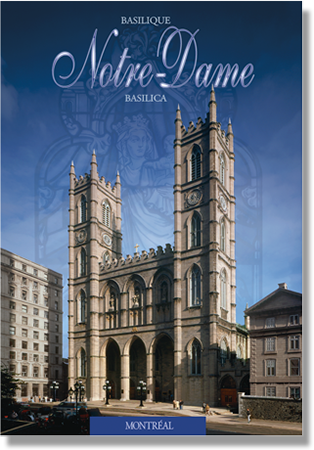 A magnificent 52 pages bilingual color booklet with 62 superb photographs of the famous Notre-Dame Basilica, its cover is laminated and its convenient format is 6 1/2 x 9 1/2".

Follow the complete visit of the Basilica through the 62 vivid color photographs of this booklet contains.

ISBN 2-9804437-0-0

The cost is 12$cdn including applicable taxes. The cost of shippping is extra as shown in the chart below.

A few pages sample in Acrobat® format (1.7Mb).

The photographs' gallery of the Notre-Dame Basilica.

Use PayPal® to order your copy of the brochure.